Lukullus to pełnowartościowa i zdrowa karma dla psa o wariancie smakowym: Królik i dziczyzna z ryżem naturalnym, jabłkiem i olejem lnianym. Sprawdzona jakość w nowym opakowaniu
Lukullus to karma pełnowartościowa, opierająca się na szczególnie bogatej recepturze. Zestawienie białek zwierzęcych, składników roślinnych i wartościowych olejów zapewnia psu wszystkie składniki pokarmowe – produkt wolny jest od dodatków chemicznych. Natura dostarcza psu wszystko, czego potrzebuje jego organizm.
Wszystkie składniki są świeże i poddawane troskliwemu procesowi przetwarzania, dzięki któremu mięso i warzywa zachowują swój pierwotny smak i wartość odżywczą.
Pełnowartościowa i zdrowa karma Lukullus w pełni ufa sile natury.
Lukullus naturalna karma jest inna poprzez swoją unikalną kompozycję składników:
Ponad 65 % zawartości mięsa podstawą zdrowej diety psa. Wykorzystane mięso i podroby podlegają surowym kontrolom jakości oraz odznaczają się wysokim stopniem akceptacji.
Cenne węglowodany oraz błonnik wpierają metabolizm.
Warzywa i owoce zapewniają wyjątkowo świeży smak oraz dostarczają mnóstwo naturalnych witamin.
Dodatek różnych olejów udoskonala recepturę naturalnie bogate w Omega 3 - i 6 kwasy tłuszczowe wspomagając zdrową kondycję skóry i dodając sierści blasku.
Oczywiście przygotowana bez dodatków chemicznych i konserwantów
Karma produkowana z miłością w Niemczech
Królik i dziczyzna z ryżem naturalnym, jabłkiem i olejem lnianym wzbogacona dodatkiem dziczyzny czyni tę kombinację wyjątkowo smaczną. Dziczyzna to mięso najzdrowsze, ponieważ żyje ona na wolności i naturalnie się odżywia. Charakteryzuje się niską zawartością tłuszczu i wysokimi walorami smakowymi. Chuda dziczyzna i delikatne mięso z królika tworzą kombinację szczególnie lekkostrawną i zaopatrują organizm psa w wysokowartościowe proteiny. Jabłko wchodzące w skład karmy dostarcza witamin i dodaje świeżości a ryż naturalny jest źródłem niezbędnego dla zdrowia błonnika. Olej lniany charakteryzujący się wysoką zawartością kwasu tłuszczowego Omega 3, który wpływa korzystnie na zdrową kondycję skóry i poprawia wygląd sierści.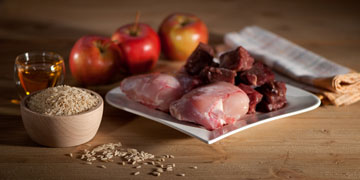 Naturalne urozmaicenie codziennego pożywienia dzięki rozmaitym wariantom smakowym:
Drób i jagnięcina z ziemniakami, mniszkiem lekarskim i olejem z pestek winogron
Dziki królik i indyk z gruszką, płatkami owsianymi i z olejem z czarnuszki
Wołowina i drób z makaronem z mąki pełnoziarnistej, szpinakiem i olejem z kiełek pszenicy
Serca z indyka i gęś z jęczmieniem, porem i olejem z dziurawca
Wołowina i indyk z ziemniakami, pietruszką i olejem słonecznikowym
Czy już wypróbowałeś?