Royal Canin Bulldog Junior/Puppy to sucha karma dla dorastających buldogów w wieku poniżej 1. roku życia, z prebiotykami i białkami L.I.P. dla optymalnego trawienia, wspomaga harmonijny wzrost
Dorastające buldogi potrzebują karmy, która sprosta ich specyficznym potrzebom żywieniowym. Szczególnej pielęgnacji i uwagi wymagają ich wrażliwe stawy. Poza tym należy wspierać naturalne siły odpornościowe organizmu szczeniąt.
Buldogi są psami rodzinnymi, spokojnymi i towarzyskimi. Z racji ich specyficznej budowy głowy i szczęki psy te posiadają wąskie drogi oddechowe, dlatego też wykazują trudności w oddychaniu, które z kolei prowadzą nierzadko do problemów z trawieniem. Buldogi potrzebują ponadto krokietów o specjalnym kształcie, który będzie je zachęcał do gryzienia. Skóra budlogów ma dużo zmarszczek, które zatrzymują ciepło i wilgoć, z czego mogą wynikać problemy z sierścią i skórą.
Karma sucha Royal Canin Breed Bulldog Junior/Puppy w skrócie:
Zdrowie i ochrona stawów: wysoka zawartość L-karnityny, chondroityny i glukozaminy, a także kwasów tłuszczowych omega-3 (EPA/DHA) chronią stawy i pomagają w utrzymaniu idealnej wagi.
Zdrowie i kondycja skóry: kompleks przeciwutleniaczy: cynku, witamin i kwasów polepsza barierę ochronną skóry i pomaga w tworzeniu błyszczącej, mocnej sierści.
Optymalne przyjmowanie pokarmów i zdrowe zęby: forma krokiecików ułatwia przyjmowanie pokarmu i zachęca do dokładnego gryzienia, dzięki czemu zęby są przy okazji mechanicznie czyszczone.
Wzmocnienie naturalnych sił obronnych organizmu: dzięki kompleksowi przeciwutleniaczy.
Optymalne trawienie: ograniczenie bakteryjnej fermentacji poprzez niską zawartość białek i dodatkowi roślinnych włókien dla dobrego układu trawiennego.
Wygląd krokiecików: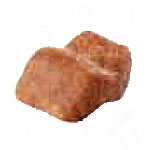 Royal Canin Breed Bulldog Junior/Puppy to sucha karma dostosowana specjalnie do potrzeb buldogów poniżej 1. roku życia.