Royal Canin Bulldog Adult to karma dla buldogów od 12. miesiąca życia, glukozamina i siarczan chondroityny dbają o zdrowie stawów, kompleks witamin dodaje sierści piękna, pobudza optymalne trawienie


Buldog angielski to spokojny, zrównoważony pies rodzinny i towarzysz o złotym sercu. Ze względu na charakterystyczny wygląd (krótkie: kufa i rzuchwa) posiada on wąskie drogi oddechowe. Związany z tym wysiłek podczas oddychania, może zakłócać prawidłową pracę układu trawiennego. Ponadto specyficzny kształt pyska utrudnia buldogom pobieranie pokarmu. Dlatego potrzebują one specjalnych krokietów, których wygląd zachęciłby buldoga do ich połknięcia i gryzienia. Skóra buldoga posiada liczne fałdy, które utrzymują wilgotność i ciepło. Konsekwencją tego mogą być nadwrażliwość skóry i problemy z sierścią. Charakterystyczna postura buldoga sprawia, że ma on wrażliwe stawy, które wymagają specjalnej ochrony.

Karma sucha Royal Canin Breed Bulldog 24 Adult sprosta szczególnym wymaganiom żywieniowym dorosłych buldogów od 12. miesiąca życia:
Zdrowie i ochrona stawów: karma Royal Canin Bulldog Adult wspomaga utrzymanie masy mięśniowej i dzięki optymalnej zawartości białka (24%), wysokiej zawartości L-karnityny, chondroityny i glukozaminy oraz kwasów tłuszczowych z grupy omega-3 (EPA/DHA) przyczynia się do budowy i ochrony stawów.
Wspieranie zdrowia skóry: kompleks antyoksydantów, cynku, witamin i aminokwasów pobudza naturalne funkcje obronne skóry i pomaga w utrzymaniu właściwego dla tego gatunku zdrowego wyglądu sierści
Optymalne przyjmowanie pokarmu i zdrowe zęby: Ergonomiczny kształt krokietów ułatwia przyjmowanie karmy i pobudza buldoga do intensywnego gryzienia, w ten sposób zęby są oczyszczane mechanicznie
Optymalne trawienie: Ograniczenia niepożądanej fermentacji bakterii dzięki niewielkiej ilości niestrawionych białek i dopływowi włókien roślinnych dla dobrej higieny trawienia, przy jednoczesnym wsparciu zdrowej flory bakteryjnej poprzez FOS
Krokiety: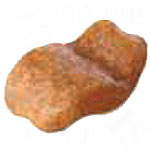 Royal Canin Breed Bulldog Adult to karma sucha dla dorosłych buldogów. Jej specjalna formuła dostosowana jest do specyficznych potrzeb żywieniowych tej rasy.
Wariant 14 kg może być dostarczony w opakowaniu promocyjnym 12 + 2 kg gratis.