Karma dietetyczna dla szczególnie wrażliwych dorosłych kotów z alergiami i nietolerancjami pokarmowymi. Do stosowania w chorobach jelit oraz chronicznej biegunce. Z białkiem, kwasami EPA/DHA
Przewód pokarmowy i skóra są dwoma organami zwierząt domowych, które są najbardziej narażone na różne wpływy środowiska. W trakcie życia u Twojego kota mogą rozwinąć się alergie i nietolerancje pokarmowe na poszczególne składniki. Symptomy tego stanu to świąd lub biegunka. W przypadku alergii i nietolerancji wystarczą czasem nawet minimalne ilości danych składników, żeby wystąpiła reakcja alergiczna.

Royal Canin Veterinary Diet - Hypoallergenic to karma dla kotów, które cierpią na alergie i nietolerancje pokarmowe i muszą w związku z tym przejść na dietę eliminacyjną.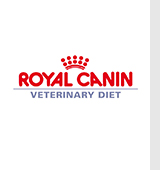 Zalecenia dotyczące stosowania karm weterynaryjnych:
Podawanie karmy weterynaryjnej powinno odbywać się wyłącznie po uprzedniej konsultacji z lekarzem weterynarii.
W trakcie podawania karmy weterynaryjnej konieczne są regularne (co 6 miesięcy) wizyty kontrolne u weterynarza.
Jeśli stan zdrowia Twojego zwierzęcia nagle się pogorszy, należy niezwłocznie zasięgnąć porady lekarza weterynarii.
Dokonanie zakupu karmy weterynaryjnej jest jednoznaczne z przeczytaniem i zrozumieniem powyższych zaleceń.


Wskazania:
dieta eliminacyjna
alergie pokarmowe z symptomami skórnymi i gastrycznymi
nietolerancja pokarmowa
przewlekłe biegunki
zapalenie jelit (nieswoiste zapalenie jelit)
przerost flory bakteryjnej jelit
zaparcia nie reagujące na włókno pokarmowe
Przeciwwskazania:
Specyfika produktu:
Hydrolizowane białko: hydrolizat białka zawiera niewiele masy cząsteczkowej. Dzięki temu jest bardzo dobrze strawny i słabo uczulający
Bariera skórna: opatentowany kompleks witamin grupy B i aminokwasów - wzmacnia barierę ochronną skóry
EPA/DHA: kwas eikozapentaenowy (EPA) i dokozaheksaenowy (DHA) są długołańcuchowymi kwasami tłuszczowymi typu omega-3, co może wpływa korzystnie na zdrowie skóry i jelit
Bardzo dobrze strawna: wyselekcjonowane składniki odżywcze wspomagają dobre trawienie.
Czas terapii:

Leczenie dietetyczne powinno być przestrzegane przez całe życie.