Zbilansowana karma mokra dla starszych kotów powyżej 12. roku życia, wspomaga stawy i nerki, bogata w kwasy EPA i DHA, redukuje ilość fosforu, soczyste kawałki w galarecie


By odżywiać kota adekwatnie do jego potrzeb należy brać pod uwagę czynniki takie, jak wiek, poziom aktywności, fizjologia i rasa. Firma Royal Canin bierze te czynniki pod uwagę w procesie produkcji swoich karm i produkuje karmę odpowiadającą potrzebom starszych kotów powyżej 12. roku życia bazując na najwyższych wymaganiach jakości firmy Royal Canin. Starsze koty instynktownie preferują formułę ONP, czyli wyważoną ilość składników budulcowych.

Royal Canin Ageing +12 to karma, która psoaida formułe odpowiednia dla kotów powyżej 12. roku życia:
Starsze koty ze względu na wiek są narażone na większe ryzyko wystąpienia chorób starszych. Zwiększona zawartość kwasów EPA i DHA wspomaga zdrowy układ moczowy.
Choroby nerek to również przypadłość, na którą cierpią koty w podeszłym wieku. Zmniejszona zawartość fosforu i wartościowe składniki połączone z niezbędnymi minerałami i witaminami skutecznie pomagają w utrzymaniu zdrowych nerek.
Odżywianie kota karmą Royal Canin Ageing +12 dostarcza do jego organizmu wszystkie składniki niezbędne dla zdrowia i witalności
Wysoka zawartość kwasów tłuszczowych wspiera zdrowie skóry i połysk sierści, a umiarkowana zawartość składników energetycznych pomaga w utrzymaniu idealnej wagi
Royal Canin Ageing +12 to soczyste kawałeczki mięsne w pysznej galarecie. Karma zawarta w saszetkach odpowiadających jednej porcji pożywienia. Saszetki zachowują pełnię smaku i chronią składniki odżycze, a mimo tego są łatwe do otwarcia.
Specyficzna formuła ONP (optymalna ilość składników budulcowych)zapewnia wysoką i długotrwałą akceptację karmy u dorosłych kotów. Bo najlepszy pokarm niczemu nie służy, jeżeli kot nie chce go jeść.
Mokra karma Royal Canin zapewnia ogólne wsparcie dla organizmu:
Niezbędne kwasy tłuszczowe: Są wartościowym źródłem energii, wspomagają mechanizmy obronne organizmu zwierzęcia i pomagają mu utrzymać piękną sierść.
Duża ilość witamin: Które działają jak przeciwutleniacze, wzmacniając system odpornościowy i wspomagają przemianę materii.
Minerały: Usprawniają przemianę materii, pomagają utrzymać zdrową skórę, i wspomagają proces budowy zdrowych i mocnych kości. .
Błonnik: pomagają utrzymać zdrowa florę jelitową i odpowiednie procesy metaboliczne.
Białka: wspomagają odpowiedni rozwój organów, mięśni i tkanek łącznych.
Doskonała przyswajalność : Dzięki starannemu doborowi surowców, białka są trawione przynajmniej w 90 % .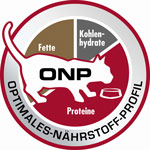 Instynktowna preferencja – optymalna ilość składników budulcowych: nowe zdrowe karmienie z formułą ONP) dopasowuje się do każdego momentu życia i specjalnych potrzeb kota. ONP to optymalna ilość energii dostarczana przez różnego rodzaju substancje odżywcze. To optymalna ilość białek, tłuszczy i węglowodanów zapewniająca wysoką akceptację pokarmu. Specjalnie wyważona ilość składników budulcowych zmienia się wraz z wiekiem kota, ale także z jego fizjologicznym stanem (ciąża, okres karmienia).

Kot potrafi rozpoznać i wybrać takie pożywienie, które najlepiej odpowiada jego zapotrzebowaniu na składniki odżywcze. Formuła ONP przyczynia się do niezwykłej, długoletniej, wysokiej akceptacji tej karmy. Koty nigdy nie będą miały dość produktów Feline Health Nutrition firmy Royal Canin! Dlatego nie trzeba zmieniać smaków karmy, ponieważ smak karmy nie ma dla kotów zbyt dużego znaczenia.