Karma mokra dla kotów z tendencją do nadwagi, doskonała w przypadku idiopatycznego zapalenia pęcherza moczowego (FIC), bogata w L-karnitynę, niweluje kamienie struwitowe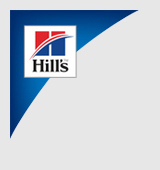 Zalecenia dotyczące stosowania karm weterynaryjnych:
Podawanie karmy weterynaryjnej powinno odbywać się wyłącznie po uprzedniej konsultacji z lekarzem weterynarii.
W trakcie podawania karmy weterynaryjnej konieczne są regularne (co 6 miesięcy) wizyty kontrolne zwierzęcia.
W razie gdyby stan zdrowia zwierzęcia uległ pogorszeniu, niezwłocznie należy zasięgnąć porady lekarza weterynarii.
Dodanie wybranej karmy weterynaryjnej do koszyka jest jednoznaczne z przeczytaniem i zrozumieniem powyższych zaleceń.
Hill´s Prescription Diet to wachlarz różnorodnych, klinicznie przetestowanych, terapeutycznych karm, które optymalnie niwelują syndromy choroby. Do najczęstszych dolegliwości dróg moczowych u kotów należą schorzenia dolnych dróg moczowych (FLUTD)oraz idiopatyczne zapalenie pęcherza moczowego (FIC), które z reguły nie ujawnia się żadnymi objawami. Częstym czynnikiem wywołującym FIC jest stres. Hill's Prescription Diet Feline c/d Urinary Stress Reduced Calorie to specjalistyczna karma dla kotów z tendencją do nadwagi. Testy kliniczne dowiodły, że redukuje ona nawrót jak i powstałe już kamienie struwitowe. Obniżona zawartość tłuszczu zapewnia kontrolowane przyjmowanie kalorii, zaś wysokie stężenie L-karnityny wspomaga redukcję tkanki tłuszczowej i wspiera tworzenie smukłej masy mięśniowej. Podwyższona ilość kwasów tłuszczowych omega-3 może działać kojąco na ból. W skład karmy wchodzi ponadto kompleksowa kompozycja składników odżywczych, rozpuszczających kamienie struwitowe w przeciągu 14 dni. Jej skuteczne działanie potwierdzono klinicznie.
Wskazania:
Schorzenia dolnych dróg moczowych u kotów (FLUTD) z tendencją do tycia, włącznie z krystalurią, kamicą moczową i idiopatycznym zapaleniem pęcherza moczowego (FIC)
Rozpuszczanie jałowych kamieni struwitowych u kotów z tendencją do tycia
Długotrwała dieta dla kotów z tendencją do tycia i podatnych na:

Kamienie struwitowe, kamienie szczawianu wapnia, kryształy** i kamienie fosforanu wapnia (rozpuszczanie lub zmniejszenie ryzyka nawrotu)
Niedrożność cewki moczowej (związane niemal zawsze z kryształkami struwitowymi i fosforanowo-wapniowymi)
Idiopatyczne zapalenia pęcherza moczowego (FIC)
Przeciwskazania:
Karmy nie należy stosować w przypadku kociąt
Karmy nie należy stosować w przypadku kotek w ciąży lub kotek karmiących
Karmy nie należy stosować w przypadku osłabionych, niedożywionych lub odwodnionych kotów
Hill's Prescription Diet Feline c/d Urinary Stress Reduced Calorie w skrócie:
Rozpuszczenie kamieni struwitowych: klinicznie sprawdzona skuteczność po 14 dniach stosowania karmy
Redukcja tkanki tłuszczowej: kontrola przyjmowanych kalorii w przypadku nadwagi
Wysoka zawartość L-karnityny: pomoc w redukcji tkanki tłuszczowej i smukła masa mięśniowa
Kwasy tłuszczowe Omega-3: uśmierzają ból towarzyszący schorzeniom dróg moczowych