Karma dietetyczna dla psów z nadwagą oraz diabetyków. Pomaga w redukcji i utrzymaniu wagi. Z włóknami roślinnymi, zaspokoja głód na długo, dla psów powyżej 1. roku życia


Nadwaga u psów jest częstym zjawiskiem. Jej podłożem może być zbyt duża kaloryczność posiłków z jednocześnie zbyt małą aktywnością fizyczną. Zmiany metaboliczne spowodowane sterylizacją lub kastracją mogą także prowadzić do nadwagi. Otyłość wpływa nie tylko negatywnie na samopoczucie zwierzęcia, ale może prowadzić do poważnych problemów zdrowotnych, skutkujących krótszym życiem. Aby osiągnąć i utrzymać odpowiednią wagę często konieczna jest specjalna dieta, a tym samym specjalna pełnowartościowa karma. Royal Canin Veterinary Diet - Satiety Support Weight Management to dietetyczne pożywienie dla psów powyżej 1. roku życia, cierpiących na otyłość, cukrzycę i hiperlipidemię. Receptura Royal Canin Veterinary Diet - Satiety Support Weight Management bazuje na połączeniu dużej ilości białka i włókien roślinnych. Dzięki temu redukcja wagi nie odbywa się kosztem tkanki mięśniowej. Odpowiednia ilość składników odżywczych, minerałów i witamin zapobiega niedoborom i pozwala na zdrową redukcję tkanki tłuszczowej. Pozostałe składniki karmy wspomagają obciążone stawy i kości.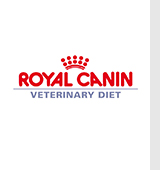 Zalecenia dotyczące stosowania karm weterynaryjnych:
Podawanie karmy weterynaryjnej powinno odbywać się wyłącznie po uprzedniej konsultacji z lekarzem weterynarii.
W trakcie podawania karmy weterynaryjnej konieczne są regularne (co 6 miesięcy) wizyty kontrolne u weterynarza.
Jeśli stan zdrowia Twojego zwierzęcia nagle się pogorszy, należy niezwłocznie zasięgnąć porady lekarza weterynarii.
Dokonanie zakupu karmy weterynaryjnej jest jednoznaczne z przeczytaniem i zrozumieniem powyższych zaleceń.
Wskazania:
otyłość
cukrzyca
utrzymanie odpowiedniej wagi
hiperlipidemia
Przeciwwskazania:
ciąża, laktacja, okres wzrostu
choroby przewlekłe, których leczenie wymaga zwiększonej kaloryczności pożywienia
Royal Canin Veterinary Diet Feline Satiety Support Weight Management w skrócie:
Uczucie sytości: specjalna mieszanka włókien roślinnych to dłuższe uczucie sytości, które pozwala uniknąć podjadania
Zrównoważone składniki odżywcze: dostarczane minerały i witaminy wspomagają zaopatrzenie komórkowe pomimo zredukowanej zawartości energetycznej
Wysoka zawartość białka: utrzymanie odpowiedniego poziomu tkanki mięśniowej podczas redukcji wagi
Stawy i kości: wyselekcjonowane składniki wspomagają obciążone stawy i kości
Czas terapii:
Tabela z zalecaną dzienną ilością pokarmu bazuje na wadze docelowej i stopniu otyłości zwierzęcia. Optymalna redukcja wagi wynosi 1 - 3% wagi ciała tygodniowo. Po kuracji zaleca się stosowanie produktów SATIETY, WEIGHT CONTROL lub NEUTERED. W każdej kolejnej fazie kuracji kaloryczność pożywienia powinna być zwiększana o 10% w stosunku do ostatniej fazy diety redukcyjnej.


Informacje dodatkowe:
Poczucie sytości po spożyciu produktów SATIETY bazuje na połączeniu wysokiej zawartości białka z dużą ilością włókien roślinnych. Z powodu małej gęstości krokiecików dzienna racja pożywienia może być większa do 32% w stosunku do innych karm redukujących wagę.