Dietetyczna karma mokra dla dorosłych psów z alergiami lub nietolerancjami pokarmowymi, bakteryjnymi i zapalnymi choróbami jelit, zawiera hydrolizowane białka, ochrona komórkowa dzięki przeciwutleniaczom
U psów układ pokarmowy jest bardzo wrażliwy, a jednocześnie narażony na działanie różnych czynników zewnętrznych. Częstym problemem są niestety również przewlekłe biegunki oraz wymioty. Wówczas długotrwała zmiana diety jest konieczna. W ciągu życia Twojego psa może rozwinąć się u niego alergia lub nietolerancja pokarmowa, która będzie objawiać się swędzeniem, biegunką czy wymiotami, a wszystko to powoduje specyficzna reakcja organizmu na składniki pożywienia.
Royal Canin Hypoallergenic to dietetyczna karma mokra stworzona specjalnie dla psów z alergią lub nietolerancją pokarmową oraz podczas zapalnych i przewlekłych chorób jelit. Aby zapewnić wysoką strawność pokarmu użyto hydrolizowanych białek o niskim potencjale alergennym. Poprzez połączenie kompleksu witamin B oraz aminokwasów wspierane są funkcje ochronne skóry. Przeciwutleniacze pomagają zwalczać wolne rodniki.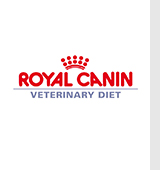 Zalecenia dotyczące stosowania karm weterynaryjnych:
Podawanie karmy weterynaryjnej powinno odbywać się wyłącznie po uprzedniej konsultacji z lekarzem weterynarii.
W trakcie podawania karmy weterynaryjnej konieczne są regularne (co 6 miesięcy) wizyty kontrolne u weterynarza.
Jeśli stan zdrowia Twojego zwierzęcia nagle się pogorszy, należy niezwłocznie zasięgnąć porady lekarza weterynarii.
Dokonanie zakupu karmy weterynaryjnej jest jednoznaczne z przeczytaniem i zrozumieniem powyższych zaleceń.

Wskazania:
Zespół rozrostu bakteryjnego jelita cienkiego
Dysbakterioza
Dieta eliminacyjna
Zewnątrzwydzielnicza niewydolność trzustki (EPI)
Alergie pokarmowe
Nietolerancje pokarmowe
Nieswoiste zapalenia jelit (IBD)
Przerost bakteryjny (SIBO/dysbioza)
Przeciwwskazania:
Szczenięta
Szczenne i karmiące suki
Specyfikacja produktu:
Hydrolizowane białka: hydrolizat białka sojowego, składa się z peptydów o niskiej masie molekularnej, co sprawia, że karma jest wyjątkowo strawna i nieznacznie alergenna.
Ochrona skóry: opatentowane połączenie (witaminy B i aminokwasów) wzmacniające funkcję skóry jako bariery.
Chroni poprzez przeciwutleniacze: synergetyczne połączenie przeciwutleniaczy pomaga zwalczać wolne rodniki.
Kwasy tłuszczowe: wspomagają zdrowie skóry i jelit.
Dalsze informacje: Royal Canin Hypoallergenic karma mokra posiada to samo źródło białka co karma sucha, czyli hydrolizat białka sojowego, dlatego można ją również stosować jako karmę uzupełniającą.

Czas terapii:
W przypadku podejrzenia alergii lub nietolerancji pokarmowej należy zmienić sposób żywienia psa bez zachowania fazy przejściowej. Leczenie dietetyczne powinno być przestrzegane przez całe życie.